Keywords:
Internet of Things, ThingWorx, Industrial Internet
Background:
The Internet of Things has gradually developed in many areas such as industrial monitoring, urban management, smart homes and intelligent transportation.
The industries involved in the Internet of Things include electronics, software and communications, identifying relevant information through the identification of electronic products, transmitting information through communication devices and services, and finally processing information through computers.
Application Requirement:
Building systems: chilled water system, hot water systems, water supply and drainage system, air conditioning system, fire protection systems, power systems, elevator systems and security systems.
Disadvantage: these systems are relatively decentralized. Heavy workload management and the utilization of energy efficiency can't be improved.
Customers'demand: Centralize the management of these subsystems through the Internet of Things so that administrators can check the operational status of each system device at any time. Improving management, optimizing staffing and reducing energy costs.
The Gateway IOT600-TWX-TS Introduction
IOT600-TWX-TS main function: Objectize Modbus RTU slave/Modbus TCP device data to the ThingWorx cloud platform.
Features:
1. Seamless connection with ThingWorx as ThingWorx Edge Server
2. Support TLS encryption transmission to fully protect data information security
3. Adopt WebSocket protocol to upload data to cloud platform
4. Facilitate the design of rapid integration into the cloud
5. Data collected objectification and attributed, easy to understand
6. Modbus serial port supports automatic demotion and recovery
System Structure Diagram: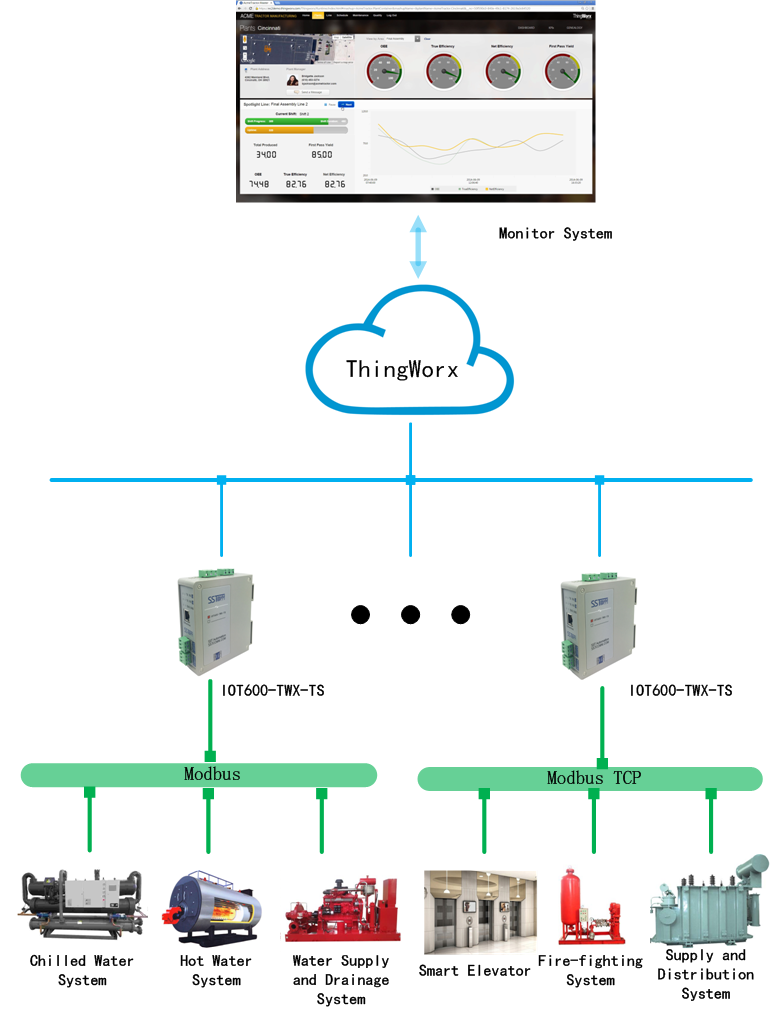 Conclusion:
The application of the system realizes centralized management of subsystems in the building system. It can realize remote monitoring, remote operation and maintenance management of each device 24 hours a day, provide fault diagnosis and alarm, key historical data storage, and improve management level, optimize staffing and reduce energy costs.